Award Designers For Their Hard Work!
MycroBurst designers work hard to create custom designs for you, the project holder. While not every designer wins, you can show your appreciation to any designer by awarding them with a donation.
What is a donation?
A donation is a monetary amount that you can award to designers. Awarding them is a great way to show how grateful you are for their hard work. Donations are in addition to a contest's prize amount and can be given to any designer participating in your project.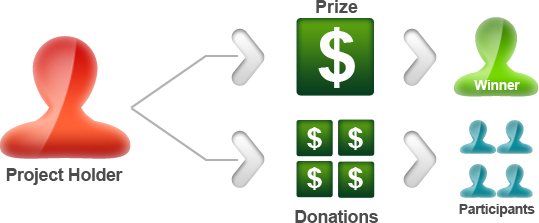 Donations come in 3 amounts – you can choose from $25, $50 or $100. Award as many designers, as many times that you want!
Please note: Donations are subject to a 20% prize handling fee. No source files will be provided in exchange for the donation.
How do I award a donation?
We're glad you asked! Watch this video for a quick tutorial on how to do just that.
Have more questions?
Contact our Support Team at any time, they'll be happy to help. You can reach them via email at support@MycroBurst.com or give them a call at (877) 525-5646.
Don't forget!
Be sure you're getting the most out of your MycroBurst project. Visit our How To Run a Successful Project page to assure that you're design project is on the right track.